ATA – ASSOCIAÇÃO DO TURISMO DE ALDEIA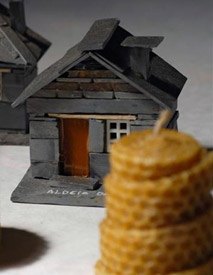 Going back to the roots, even for a short period of time, is now an increasingly heartfelt appeal for millions of people around the world who want to escape the chaos of the impersonal and repetitive daily life. They want to experience the contact with a simple and quiet life and pure nature of a typical village. If this experience can be combined with the comfort and satisfaction of the basic needs, then it would be even better…
It was keeping those values in mind – the preservation and protection of the natural and edified heritages of many villages, and the need to provide some of these villages with the minimum standards of living conditions of modern times – that led local development associations to the creation of the network "Aldeias de Portugal", which ATA – Associação de Turismo de Aldeia has been consolidating.
ATA – Associação de Turismo de Aldeia, is an association of national scope, created on 17 june 1999. Since 2005 the association has been experiencing a new dynamism sponsored by ADL´s that invest in its reorganization and consolidation, giving it a more daring mission, and whose ambition involves the development and promotion of rural areas, the organization of the touristic product "Aldeias de Portugal", the promotion and enhancement of villages, the promotion and disclosure of local and regional resources, the provision of services and the marketing of products, the promotion and implementation of professional trainings and the representation of their members´ interests and their territory.
Presenting traditional villages with tourism potential, either due to their natural features or to their appreciation for the assistance realized by communitarian funds, namely the community initiative Leader, and in pursuit of their development and preservation, the authorities considered it fundamental to range these villages as a product / service of excellence, under the brand "Aldeias de Portugal".
The objectives of this project are the enhancement of tourism in rural areas and the increasing of current occupancy rates, the fixation and rejuvenation of the rural population, the valorisation and cultural exchange, the recovery and promotion of local cultural heritage, the creation of a supplement to the family economy and create a European network of accommodation in village tourism.
ATA classifies as "Aldeias de Portugal" a population cluster in rural areas, defined by an area of significant heritage value that expresses itself in the tradition of its products and activities, and whose population is identified with an integrated project of conservation of those values. In fact they are essential attributes for this classification, the village still has life, a visible dynamism in its population and activities connected to the rural world that shows predominantly traditional buildings.
The remaining development of the village lies in the ambition of ATA and local development associations, where they are located, that promote their valuation and increase its tourist appeal, claiming the collaboration of its population, economic agents in the village and local government.
This brand is therefore a reference for the certification of property of ATA – ASSOCIAÇÃO DE TURISMO DE ALDEIA, which honours rural villages, the natural preservation of past traditions and history as expressed in its buildings, its people, culture and customs, to ensure the continuity of the villages and provide the knowledge or return to the origins.