Facilities & Equipments
Due to their geographical constraints, the Aldeias de Portugal are often not provided with all the equipments and facilities that we usually find in urban centres. To make your stay at Aldeias de Portugal more pleasant we will mention here the facilities and equipments that can be found at the villages and/or surroundings.
Cultural & Natural heritage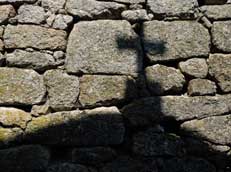 In the Aldeias de Portugal many perspectives catch the interest of their visitors. In these villages many constructions and archaeological findings prove us the existence of men thousands of years ago. Folklore is the most genuine, colourful and joyful of Portugal. Also culture, gastronomy, arts, artisans and traditional crafts of ancient times, were kept alive until the day of today.
History
Louredo Village is part of Vieira do Minho and this Minho identity is evident in the typical houses in the village, which deserve a closer look. Granite is king and reigns in the houses and streets, but don't think for a moment that for this reason the village is grey. Colour detail, such as on doors and windows with wooden frames, is dominated by the colour known as "bull's blood", a bright colour that marks the personality of the village. The setting of Louredo could not be better: located in the foothills of Cabreira mountain, the village is on a green slope, bordered by the Cávado river, where it converges with the Caniçada dam, and right in front of Gerês mountain.
To leisurely enjoy this small haven of tranquillity, stay in one of the existing rural tourism units: Caseiro House, Celeiro House, D. Margarida House, S. Francisco House or Palheiro House. Serving as support for the entire population, an old restored wine press is now a leisure area with two swimming pools, a café, a games room and a gym. If you prefer more traditional activities, there is a craft workshop waiting for you, where you can learn all about linen, from the time it's planted to weaving and embroidery. In the Art-Agra craft centre, other handicrafts are developed, although to a lesser extent: copper work, formerly a landmark of the region and Sangarinho wickerwork, a very characteristic product of which very few examples remain.
Religion is present in several notes and buildings that are worth discovering, such as the chapel of Senhora da Guia, the chapel of São Pedro and the Louredo parish church and the Sudro shrines. Use up some energy wandering through the village and its green surroundings because there will no shortage of delights to replenish the calories expended: Barrosa veal, lamb from the highlands of Minho and cheese from Cabreira mountain are typical of the local delicacies you can try at the restaurant, o Louredo, where the house steak and roast veal are also specialities.